Description
LCD / Incell / OLED / Soft OLED



LCD Screen: General display effect, works by emitting light from a backlight and filtering the light to display images on the display.
Incell Screen: With original technoloy, Incell has the best stability and response speed.
OLED Screen: OLED structure is simpler, so the screen itself will be lighter and thinner than the LCD. The display effect is purer, the contrast will be higher and more power-saving.
Soft OLED Screen: It is the best of all, Besides all the advantages of oled screen, The soft display is foldable, so the soft screen has better drop performance and high repairability.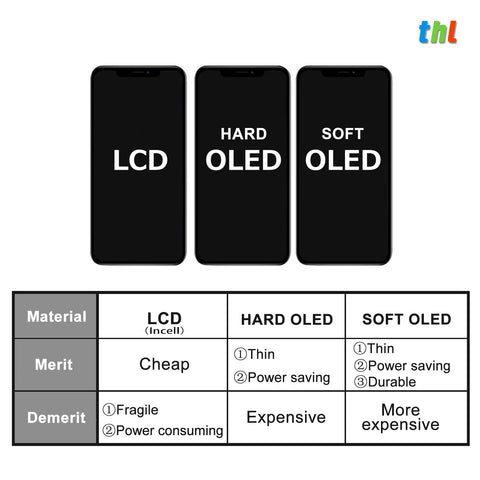 The same touch experience as the original screen, no delay, no lag, and the same touch function as the original screen.
The same display effect, the same brightness, the same color, high color gamut, and full viewing angle.
Go with the original connector. The same thickness as the original screen, no scratching or warping after installation, smooth panel with perfect touch feeling.
Tested before shipping insure 100% working well, Comes with pretective plastic film on the screens and safe packing. Excellent after-sale service, We will give an instant response to any question from our customers.
As screen specialists, we believe in our products. We have our own processing factories in China with more than 1000 employees, as a service provider with strong supply chain resources and perfect after-sales service, we are committed to providing our customers with the best quality products and the most perfect after-sales service.
Ottimo acquisto
Esattamente ciò che mi serviva. Ho sostituito il pulsante con il lettore di impronte (touch 3d) e il telefono è rinato.
Splendida la confezione, attrezzi in dotazione veramente belli
Ottimo
Buon prodotto robusto e chiaro lo schermo.
Avis
Correspond la description, facile monter soit mme outils fourni avec et un cran de protection je recommande
Very convenient, fast, and easy
I've replaced a couple iphone screens before and I can attest, this was one of the best and easiest replacements I've ever seen. Once all the parts were taken out replacing the screen only required putting back the pieces by the camera and reattaching the little tabs, the metal was already attached to the replacement so my hardest work went to taking apart my old screen which was so badly cracked that I couldn't see the screen and my bottom screws were stripped, took me about 2 hours for the whole replacement and 1 1/2 went to trying to pry my old screen off, took 30 mins at most to attach the replacement. Very convenient, would definitely recommend for professionals and anyone looking to replace an iphone screen.
Worth the buy!
So happy I bought this replacement screen! It came with everything I needed and more. The installation was simple for someone like me to perform with very limited experience in this sort of this. The functionality of the screen is perfect as far as I can tell. No issues at all! Definitely recommend it.